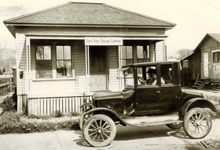 Returning applicants may check on their organization's grant status on the online grant management site (found here) using their existing usernames and passwords.
Application Process Overview
Qualified applicants should email the foundation's grant manager (grants@woodclaeyssensfoundation.org) to receive an access code. Please keep this password private and do not share it with any other organization.
Using your existing login credentials, sign into our online site (found here) and click the "Apply" button on the left - you must then input the Access Code on the left panel. Once entered, the "Returning Applicant Grant Program will be made available to you.
Applications must be submitted by 11:59pm on June 30th.
The WCF board typically meets in the Fall to make its decisions - grant checks and declination letters are usually sent out in December. Please plan your budgets and grant requests accordingly.
After June 30th, If our Foundation staff find that there is any missing information during the review process, you will receive only one notice via email allowing you to edit and resubmit the application.
If your organization fails to submit a completed application or make the necessary changes in a reasonable time, its application will be abandoned and the organization must re-apply in the following year.
The WCF requires a signed copy of the Grant Approval/Agreement letter that is mailed with grant checks. Those that do not return this letter will be ineligible to apply for additional grants until the Foundation is in receipt of it
Any questions or concerns regarding the grant process should be directed via email to the Wood-Claeyssens Foundation at grants@woodclaeyssensfoundation.org.